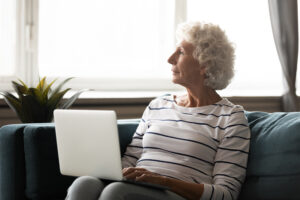 We have all needed to find new ways to keep our spirits high during these times.  Sheltering-in-place and quarantining have made spending time together much more difficult, but it is no less important that we nurture our connections, and find peace and joy.  If your loved one is in a care facility, you may not be able to visit them as you used to, and they may feel confused or upset about restrictions they're experiencing.  Although some folks are finding their way just fine, we would like to offer some suggestions for caregivers who may be struggling.
Mental Health
Many people report feeling off right now, and it makes sense!  We are all adjusting to significant changes in our daily routines.  Caregivers may notice their loved ones feeling more down or stressed out, as well as possibly confused about limitations of activities and access to resources.  Caregivers might feel similar sadness and anxiety about the welfare of family and friends.  
The right balance of mental stimulation, interacting with others, enjoying hobbies, good sleep, and taking care of one's physical health sets us on a good path to managing mental health needs.  
For folks who are struggling more than usual, professional help is available as most therapists have found ways to meet with patients via telehealth.  Talking about it, finding some meaning in this experience, and continuing to engage in life can all help.  This doesn't just apply to your loved ones – taking care of yourself is just as important!  Please don't hesitate to reach out to us if you would like a free consultation for our therapy services.
Physical Needs
Exercise: If deemed appropriate by their doctor, your loved one's overall health and wellness would benefit from regular exercise.  Encourage whatever routine they had before the pandemic began, and support them in adapting it if necessary.  For example, if your loved one used to go for walks, they may still be able to walk corridors or grounds, even if prohibited from going out in public.  
Healthy Eating: Stress eating works because rich foods release feel-good chemicals in our brains, but we all know you can have too much of a good thing.  Make sure your loved one continues to have access to healthy choices.  
Sleep: Sleep difficulties are frequently seen in individuals with cognitive challenges.  Addressing sleep needs improve cognitive functioning and mood.  Keeping a regular schedule as much as possible will help define sleep-wake times, as will making sure the environment is comfortable and conducive to sleep.  Check out some sleep tips here.
Hygiene: Caregivers can help keep loved ones safe by reminding them to wash their hands frequently.  Posting notes in the bathroom, prompting them after they have been outside or in contact with something/someone that was, and having hand sanitizer available may be helpful.  Make sure masks are available, and that professionals use personal protective equipment and wash their hands regularly.
Medical: Make sure you know what your loved one's doctor and hospital recommend should your loved one require medical attention.  This often involves calling an advice line before actually going in, which helps limit exposure. 
Care Contingencies: In the event that caregivers get sick, make sure there is a plan to cover your loved one's needs.
Socialization
Continue to interact with your loved one.  Call on the phone, write letters.  If their facility allows, visit them through a window.  Ask if staff can help your loved one set up a video call.  As long as they are well, make sure your loved one isn't isolated and continues to interact with other residents.
Facilitate New Experiences
Many organizations have made virtual services available, expanding access to art, wildlife, and entertainment.